Sign Up For FREE Business Bootcamps
Whether you are an aspiring entrepreneur or a Girlboss looking to grow her Empire, The Clique is a platform to help you launch and grow profitable businesses that you are passionate about.
Click Here to join The Clique FOR FREE
To get in The Clique, sign up for FREE where you will receive access to our FREE business bootcamps that cover topics such as branding, social media, online marketing, developing the mindset needed for success.
 
Click Here to join The Clique FOR FREE
You will also get access to our exclusive Facebook group where you are able to network and collaborate with other amazing women, receive weekly emails packed with inspiration and advice and be the first to find out about our future workshops and events.
See you in The Clique….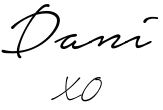 Dani Watson
Founder & CEO